In Vodice, the traditional specialty of the greatest Christian holiday – Easter are Žudiji, guys dressed in uniforms of Roman soldiers staging their role in the passion of Jesus Christt during the Holy Week. These guardians of the grave of Christ continue this tradition that is more than a hundred years old! Despite the fact that they came upon many hardships over the past years, they never missed their service.
The word žudija is Greco-Roman origin and means "a Jew", and it is very likely that this custom came to our country from Italy. Unlike the town, in other individual parishes these guys are dressed in traditional costumes or sailor uniforms. When the bells ring on Holy Saturday announcing the resurrection, the guards, who until then were guarding the grave, are overtaken by fear, fall to the ground and flee. This primarily liturgical action, at least in the area of ​​Vodice, has grown into a real tourist attraction. Although at the very beginning of this tradition the uniform was quite simple, during the years, it resembles more and more to that of the first, primal Romans! According to old habitants of Vodice, once there was not a street where the children didn't play the games of žudija. After that, the custom was almoust eradicated, but fortunately without success!
Interestingly, the service of so-called žudija can be joined by all interested young boys of eight to twelve years if they are height of not less than one thirty. The service žudija begins on Holy Thursday, when twelve members of society take part in the ritual washing of the feet at Mass, and after that enter the church in žudijska uniform and take their place on God's grave! On Good Friday they take part in the procession, but the highlight is on Holy Saturday when infront of the church packed with believers, Žudiji fall and run away, and two angels enter into an open grave, announcing the resurrection of Christ!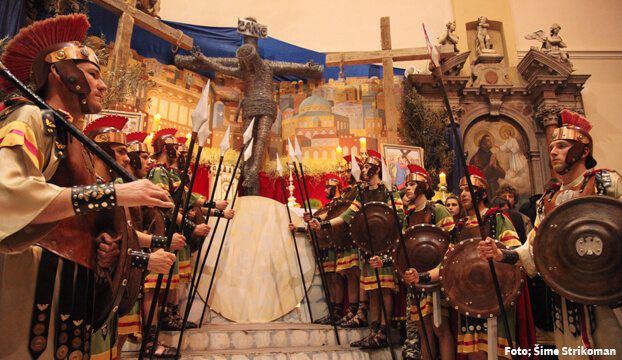 This famous tradition is lives throughout the whole year when Žudije participate in other processions in nearby cities and towns. It also comes to life beyond local borders of Vodice which once again confirm that they know how to cherish spiritual wealth!
That's not all when it comes to a rich Easter offer in this area! Thanks to the tourist board, all of those who were in the beautiful Vodice on Easter Monday sweetened themselves with the traditional breakfast in the open air, which is served by women dressed in traditional costumes of the old tour guide and accompanied by folklore groups from surrounding areas! With the sounds of the inevitable Dalmatian choir, homemade "fritule" and "kroštule" are served and we are sure that all those who have tasted them have them in longterm memories!