Vodice was inhabited ever since the Roman times and then they were called Araus or Arausa Antonina because of the plentiful sources of drinking water after which they actually received the present name!
Fifty years ago people living in Vodice were mostly farmers working in field. Today they live of tourism and for tourism. However, they still keep their traditions and their guests enjoy this happy blend of past and present. Besides being a tourist center, Vodice still have an extremely fertile ground that its inhabitants still assiduously cultivate. Given that the fields are rich in water, they are ideal for the cultivation of olives, grapes and cherries called Maraska. You can still find plenty of wells and many green surfaces surrounded by stone walls that stand the test of time – which definitely proves the Dalmatian will, spirit and defiance!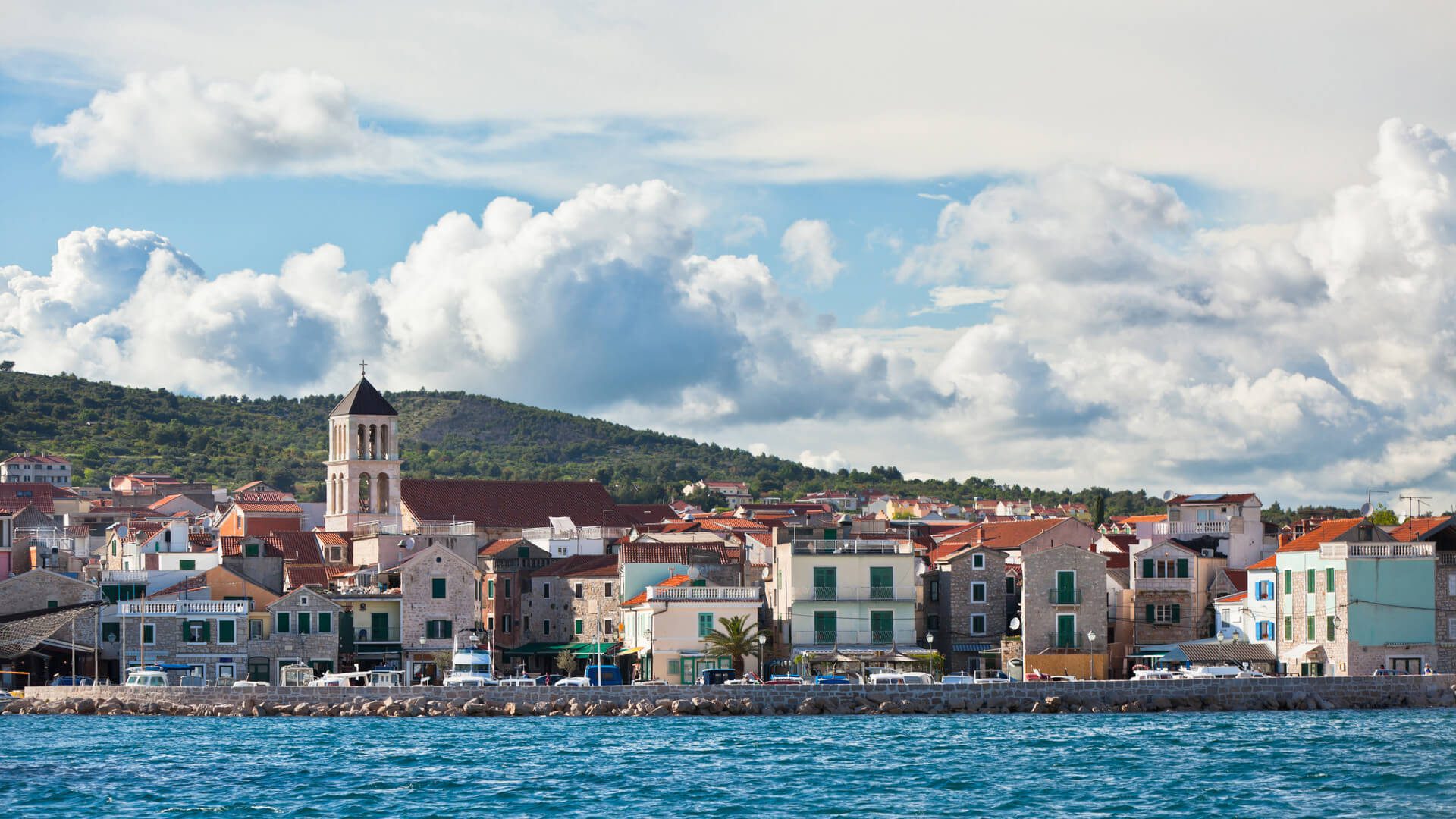 Vodice is also known for its lively and various tourist offer and pleasant people. Today there are 10,000 inhabitant in this town located on the coast in a wide bay, 11km northwest of Šibenik, the city center of the county. Many consider Vodice an ideal place for vacation, a place where anyone can find something for themselves.
Therefore, you can't go wrong if you decide to spend your well-deserved vacation in Vodice!
Located in the lap of romantic islands, surrounded by lots of fields and two national parks, with a pleasant climate and inhabited by friendly people, Vodice is the right place for your dream vacation all year round.
Fields of Vodice are rich in water and fertile soil, so Vodice can also be an ideal place to live a comfortable life. Its residents were and still are famous for growing olives, vines and Maraska cherry. Today in the fields one can still find visible remains of places where people used to live in. Also, wells and ponds where cattle was fed have been preserved. The feilds also have dry stone walls which divided the owners of the owners thus testifying about the firm Dalmatian spirit, will, strength and defiance. Old traditional buildings, "bunje", which were once used as houses for shepherds, as well as a shelter from bad weather or tool storage, still stand the test of time.
Apart from its natural beauty and cultural sights, Vodice is known for its developed medical tourism, especially dental and wellness one.
Furthermore, Vodice and Šibenik are particularly popular for congress tourism, thanks to well-equipped large multifunctional halls that can receive hundreds of participants.
Vodice is also proud of its long sandy beaches that stretch west and east of the town and are graced with lush Mediterranean vegetation.
For all sporty types, Vodice offer tennis complexes, soccer fields, basketball and volleyball courts, a diving school and windsurfing. Anyone interested in diving can register for a diving course, or even try out underwater photosafari!
There are plenty of bike routes also. You can explore the surroundings of the rich fields, take the more challenging mountain trail or trails that lead towards the historical heritage in the hinterland of the town.
For those looking for a nature adventure and rich offers, Vodice is lucky enough to be situated close to many national parks that can be seen and explore daily. After a rest in Villa Bianca, very close, in the center, there is a starting point where many ships go on a tour of National Parks Krka, Kornati or a trip to nearby islands such as Zlarin or Prvić. Also, there is a boat rental for those who want to keep the rope in their own hands!
The gastronomic offer includes a true enjoyment in true Dalmatian delicacies that include light and healthy food with lots of fish prepared in every possible way. Many taverns offer homemade, red and white, wine from the nearby vineyards and after dessert definitely ask for a glass of local marasca cherry. This drink comes from a type of grape particularly delicious in this area and the wine is therefore very drinkable.
Due to its position, Vodice has a Mediterranean climate characterized by mild winters and dry summers with an incredibly favorable periods in the early spring and late autumn. In short, Vodice is enjoyable all year round!
U ovom gradu vas očekuje atraktivan smještaj u Villi Bianca, lagodan i bezbrižan odmor, gdje domaćin brine o svom gostu, a vama ne preostaje drugo, nego li vidjeti, okusiti, probati, istražiti i vratiti se.
In this town you can expect a very attractive accommodation in Villa Bianca, that will contribute to an easygoing and carefree holiday. As the hosts take good care of their guests, you have no other choice but to see, taste, try, explore and come back again.
Take a look at one lucky video from Vodice :)